PART 2:
Continues Albert's adventures trying to
view the cable DVR on a second TV
.
As detailed in
Part 1
, we purchased a
Samsung Smart TV
and found out it wasn't all that smart. Yeah, sure it's wireless, and, okay, you can stream Netflix on it, but that really is about it. And, entering usernames, passwords and movie names on the Samsung's pitiful TV controller made me want to tear my hair out (come on, no Albert jokes--so hurtful).
We installed Slingbox which claims to
make "it easy to watch and control your home TV from virtually anywhere, anytime on your laptop, tablet, smartphone or connected device,"
but it still didn't work with the TV. Then, Albert downloaded the Slingplayer to his iPad, which worked just fine. We were able to watch the TIVO DVR box in the bedroom which was the goal, but on an iPad, not on the new 55" TV. I suggested we should consider returning the TV.
Samsung Smart TV mocking us every night. We hadn't
even pealed the sticky clear cover off the screen, label still
in the corner and the box still in the garage.
Albert accused me of not being supportive. I was hurt and sulked off to clean out the garage (remodel disaster leftovers). Albert left the house in a huff. When he came back, he had purchased
Apple TV
.
AppleTV
This is a cool product, and the price is sure right. Albert liked the form factor too, as he could velcro it to the back of the TV (sort of keeping to the no more set top boxes goal). You plug it in, and the darn thing finds your iPad and displays it on the TV, and allows you to control everything instantly. We were entranced. It was so neat to bring up iPad apps, pictures, videos, whatever and see them on the 55" TV.
But we had gotten distracted from the quest. Could we watch the Slingbox from the iPad and have it "mirror" on the TV? We tried it and it worked!!!! Until the whole thing would lock up. Then we would reboot everything. And it worked! Until it all locked up again. The official explanation from Albert was "too many hops." Translation, the TIVO hopped to the Slingbox, which hopped to the Slingplayer on the iPad which hopped to the AppleTV which hopped to the Samsung.
TOO MANY HOPS
! For me, it looked bleak and Albert was understandably annoyed when I referred to our new TV as strictly decorative.
I mentioned Albert's job in the previous post, yes? He is a Network Manager. From what I gather, his next step was to declare a Sev 1 emergency issue (I.T. talk for "severity one, service unavailable") and called a meeting with his team. All I know is he came home with a new recommendation. He was positively giddy. What we needed was a "
Nyrius NAVS500 HD 1080p HDMI Digital Wireless Audio Video Sender Transmitter & Receiver System with IR Remote Extender."
What's this batman?
Huh? The marketing blurb on Amazon says, "Control your HD devices from any room in your house with the included infrared remote extender. Easy to install and set up eliminating expensive, messy wires." It came on a Saturday and Albert had it hooked up in 5 minutes.
Wait for it . . . it didn't work. Albert fiddled around for 30 minutes (new record, all other tries had gotten at least 2-3 hours of attention). I was super disappointed when he declared it a failure and I asked why he didn't keep trying. He said, "It is so simple. It either works or it doesn't." Reviews at Amazon confirm this fact. It seems that people get it to work after they play around a bit (sometimes over weeks) and a few lucky ones find it works right away.
I went out to get my hair dyed (shocking, this is not my actual hair color). Unbeknownst to me, Albert went back to Best Buy where he bought a
Boxee
.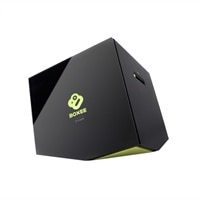 Boxee?
When I came home, Albert was sitting on the bed watching the TIVO on the new Samsung Smart TV.
Boom.
Boxee is one of the two recommended Slingbox
Slingplayers for "connected devices"
... e.g. TVs. The other device listed on the Slingbox site is the Logitech Revue, but it doesn't appear to be sold anymore and Best Buy has discontinued carrying it. The Boxee menus and controls are kind of clunky, but once you get the hang of it, you can move around pretty easily with a full QWERTY keyboard (not like a TV remote). Why didn't Albert go right to the Boxee, you may wonder (I know I did so I asked). Because part of his quest was no more dumb boxes (and Boxee is certainly ridiculous looking), and the Smart TV should have worked directly with the Slingbox without extra stuff which bugged him on a morals issue, ethical issue?? I don't know.
Boxee Remote has full QWERTY keyboard
The quest was over and Albert had won. The technical gadgets had lost.
In case you need a shopping list, this is what Albert bought to allow us to view TIVO, our cable DVR device, located in the living room, on the new TV in the master bedroom, the
Samsung 55" Class 1080p LED Smart HDTV
:
Note:
We kept the
Apple TV
and hooked it up to the living room TV. It seems useful for something. And, of course, we kept the
two
Slingplayers
we purchased on our iPads for $29.99 each. What a ripoff but someday when I am stuck in a hotel room on business travel I suppose I will be more appreciative.

Postscript: Our TV viewing problems were solved, but, unfortunately, I had a new problem. **sigh**
Why is the dumb Boxee so annoyingly Boxee?
No velcro-ing this to the back of the TV.